Youth
Scholarships "Working to Create a Better Future" - The Caisse Populaire Kahnawake Board of Directors established the scholarships in 2009, offering scholarships to student members attending High School, C.E.G.E.P.,Vocational Studies, University and the Kanien'keha Ratiwennahni:rats Adult Immersion Program.

The recipients of the Caisse Populaire Kahnawake Scholarship Awards are selected by a committee who considers applicants who strive to achieve his/her goals through academic success. Although academics play a significant role, the committee also considers students` life style and participation in the community.

The applications are available each year beginning mid-February with the deadline for submission the end of May. The actual dates are posted annually.

Summer Student Employment :

The Caisse Populaire Kahnawake offers students summer employment. Requirements for application, College and University students who are returning to studies in the fall of the same year. Preference will be given to Commerce, Accounting or Business Administration students.
The recipients for the 2014 Scholarships were:
University:
Brandon Bordeau, Gage Diabo and Dillon Rice
C.E.G.E.P.
Rebecca Boyer and Wahienhawi Skye.
Congratulations to these dedicated students.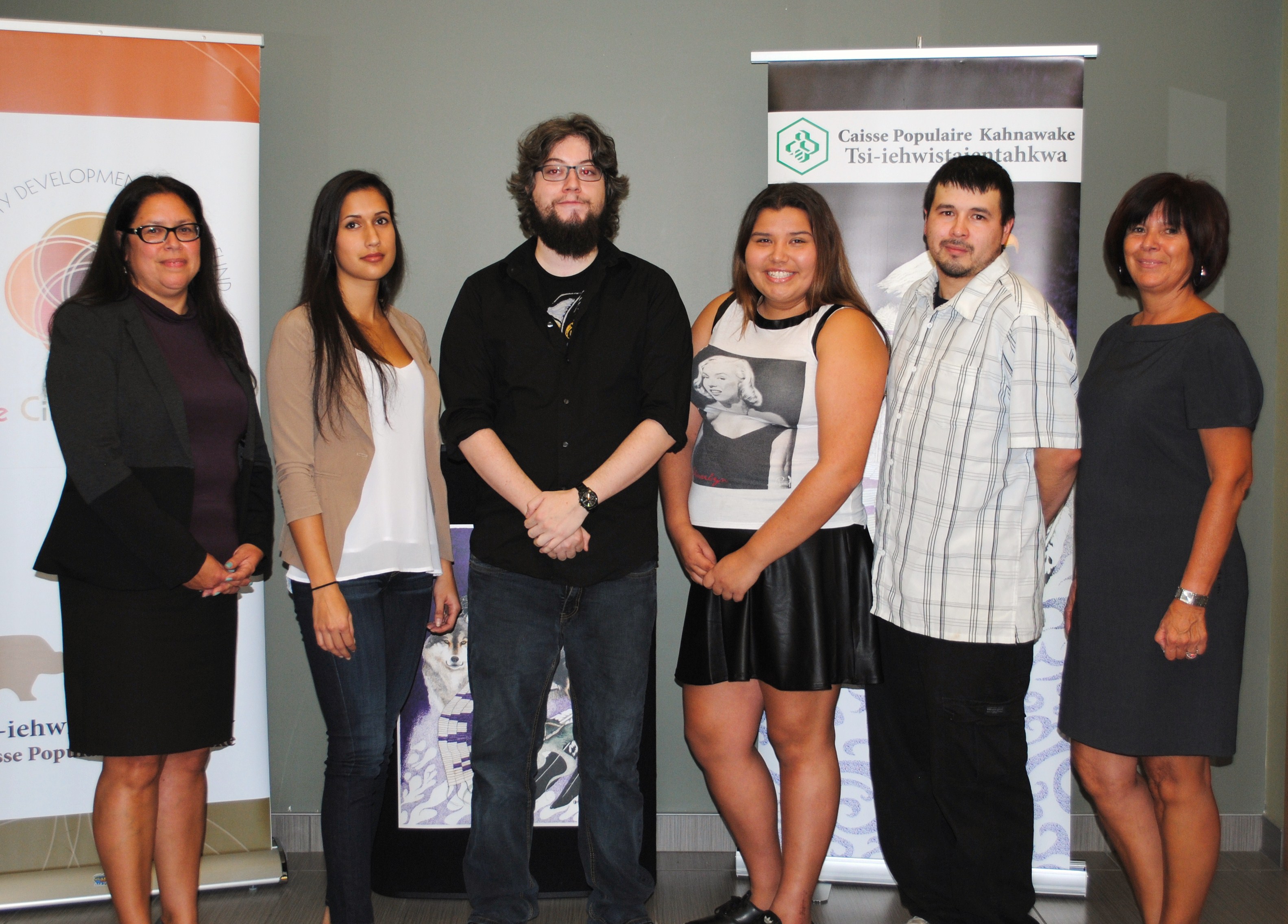 Left to right: Mandie Montour, General Manager, Wahienhawi Skye, Dillon Rice, Brandon Bordeau and Nelva Diabo, Scholarship Selection Committee. Missing: Gage Diabo.
School caisse: a project for primary schools

What`s a school caisse?
A school caisse is an education, savings and cooperation project for elementary school students. Each school caisse works like a cooperative and operates under the authority and supervision of a local Desjardins caisse. School caisse: a project for primary schools

The objectives are to :

Understand:
money and its different values
the nature, advantages and constraints of saving on a systematic basis
the notion of cooperation
the notion of budgeting
Develop:
one`s ability to work as part of a team
cooperative values and approaches
Learn:
various methods for saving effectively
various techniques for working as part of a team
Contact your child`s school administration to find out if it offers the school caisse service. If it doesn`t, feel free to show your interest.

Special Members Dividends for young members at school caisses
Youth Dividends are deposited into the accounts of children who have made at least 7 deposits, regardless of the amount.

The Caisse Populaire Kahnawake actively supports the financial education of students at the following participating Kahnawake schools: Indian Way, Kateri and Karonhianonhnha Schools.