Community Involvement
A Legacy of Sharing, Giving and Pride
As a financial services institution, the Caisse is guided by co-operative principles. These are reflected in the allocation of resources to its' members and to the community at large. The Community Development Project Fund (CDPF) has built on the Caisse's legacy of providing financial support to initiatives that enhance the lives of our youth, our Elders and our community.

The logo, "The Circle of Giving" represents Owner/Members investing in the Caisse, the Caisse investing in the CDPF and the CDPF investing in non-profit organizations. In turn, these organizations provide services to community members, thereby creating a Circle of Giving.

Community Development Project Fund - as of 2013 - $550, 000
Donations and Sponsorships as of 2013, $1,113,351
Member Dividends as of 2014- $10,865,025

The Caisse also acknowledges and supports the community through a variety of other important initiatives.

The Rita McComber Memorial Volunteer Award

Developed as part of the Caisse's 20th Anniversary, the award pays tribute to Kahnawá'kehrό:non who have given extraordinary help or care to individuals, families or groups; supported community services or humanitarian causes and have been involved in these activities for a number of years. Originally called the Caisse Populaire Kahnawake Volunteer Award, it was renamed to honor the late Rita McComber, a compassionate and dedicated volunteer who gave unselfishly to the community for many years.

Business Achievement Award

Since its' inception in 2008, the Caisse has been recognizing organizations for their service and commitment to the community and acknowledging the business community for their entrepreneurship and economic contributions.

The Caisse Populaire Kahnawake Yearly Calendar

In December 2009, the Caisse launched its first Calendar entitled "Cultural Expressions".

Since then, the Calendar has become an anticipated yearly event showcasing the work of Kahnawake's abundance of talented artists who honor our culture through their artwork.

The Caisse's value and significance is evident and stands as a testament to why it is important to invest in our community and have Kahnawake's money working for Kahnawake.
See Donations for December 2014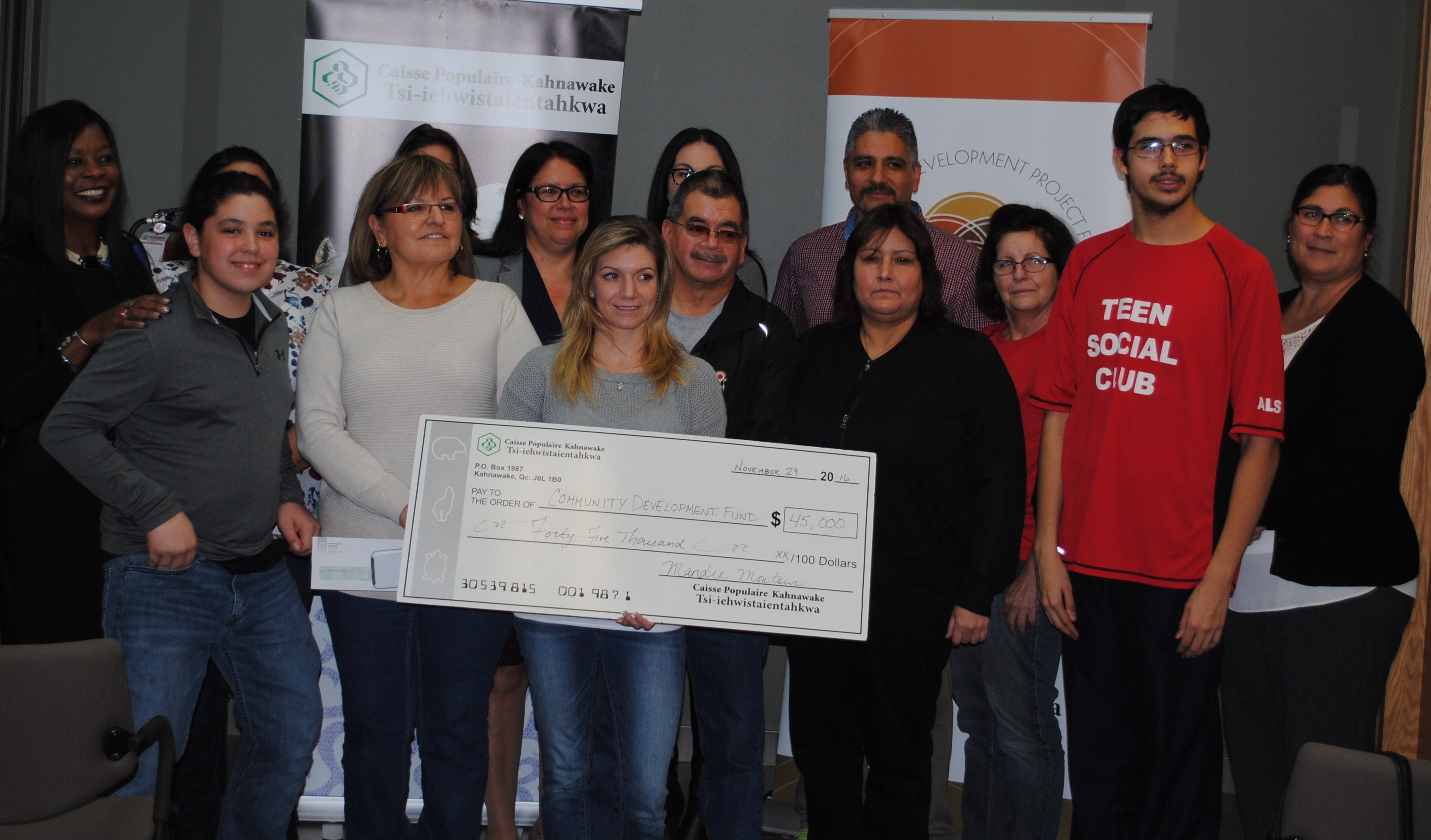 Community Development Project Fund 2016


Mandie Montour presenting cheque to Vanessa Horn - Echoes of a Proud Nation Pow Wow $5,000


Eleanor Paul and Jean Guimond accepting cheque for The Relay for Life Walk - $300

Also donated to or sponsored the following:

Kahnawake Jr. B. Hunters Lacrosse
Alzheimer Society
Minor Lacrosse Player Profile Segment - Mohawk T.V.



Charleen Schurman accepting cheque for Kateri Memorial Foundation Golf Tournament - $500
At the Annual General Meeting held on Wednesday, April 23, 2014, members voted to allocate $60,000 to the Community Development Fund.

Project applications for 2014 will be available beginning June 20, 2014 at the Caisse Populaire Kahnawake reception desk, during regular business hours.